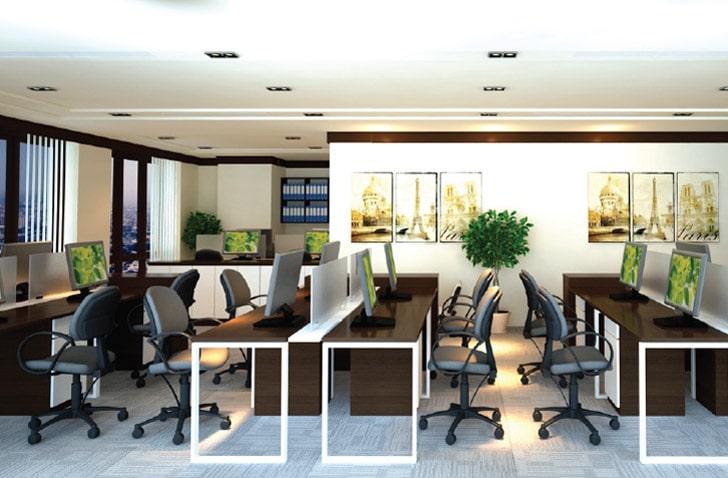 [TOP] 6 Criteria To Consider When Looking For An Office For Rent In Da Nang
It is never easy to select an office for rent in Danang. And, in order to have a good, convenient, and appropriate space for business activities, you should keep a few things in mind when looking for an office for rent. Therefore, let's take a look at the top six criteria that you should definitely know when renting an office in Danang (Da Nang) or Hoian (Hoi An) in this article.
The importance of the office for a business
The office is more than just a place to work; it is also the company's public face. The location is also important for a company's brand positioning and image. The office, in particular, exemplifies the entire company culture. Aids in expressing the company's style and personality.
A good office also allows employees to work more efficiently. Not only that, office is also their second home. So, whether a company is big or small, they are all focused on creating a modern, friendly environment to help employees do their jobs better. As a result, businesses can reach their objectives more quickly.
The top 6 criteria to consider when looking for an office for rent in Da Nang
Good Location
This is the first criterion to consider when looking for an office for rent. It's because of business, brand promotion, and transactions will be much more convenient if they are located in a good location.
Typically, the ideal location for an office is the one that is clean, well-lit, and green. Furthermore, the traffic system in that area should be convenient. Ideally, you should limit your search to areas with flooding issues and ensure that the location is completely in accordance with feng shui.
Equipments are in good working order
When looking for an office rental in Da Nang, pay close attention to the elevator system, basement, air conditioner, and toilet. This will be a deciding factor in terms of long-term use-value. Furthermore, if everything goes well, both you and your employees will have a more pleasant experience when visiting the office for rent.
Reasonable price
In addition to ensuring a good location, you should consider the cost factor when looking for an office to rent. Ideally, select offices with rates that correspond to the company's ability to pay. To determine the right price, consider factors such as office location, rental management board, acreage, and equipments….
Furthermore, if you rent an office in a building, you will be charged an additional management fee. This is the cost of maintaining the area's security, maintenance, reception, electricity, and water, among other things. Make sure to inquire about this fee, as well as the parking space, in order to actively consider the most reasonable financial option.
A small note about the cost criterion is the office's repair and design. The office layout space will differ depending on the business purpose. As a result, the repair time is not fixed. And, you should bargain with the landlord for this assistance.
Suitable Size – An office for rent fitting the team size
You will select a suitable location for the company office based on its size and long-term development strategy. If you plan to expand in the future, please negotiate with the investor to reduce the cost of renting an office in Da Nang.
Furthermore, in some cases, you must pay for common areas such as corridors, toilets, and so on. To avoid problems, you should negotiate carefully when signing the contract. trouble in the future.
Good quality of management and security
This is an important consideration because if security is inadequate, the company's assets are likely to be lost. As a result, you should take careful note of your surroundings. Consult the management unit and the security system in the building where you are renting an office.
Legal guarantee
Before renting an office in Da Nang, do not forget to consider the associated legal procedures. Ascertain the lessor's trustworthiness and the clarity and transparency of the rental agreement. Additionally, you should provide the most favorable terms and conditions for both parties responsibilities.
Notes to remember when choosing an office for rent
After you've decided on the right office, the next step is to review and sign the contract. Even if this is your first time or you have prior experience, you should be aware of the following points to avoid unnecessary risks to yourself.
Clear contract
A contract is a legal document that enables two parties to protect their respective interests. Additionally, when signing an office lease, you should ensure that the information provided is accurate and complete. A standard contract will typically include the following provisions:
Details about the parties involved.
Details about the office for rent include the address, area, and office characteristics.
Building conditions for an office.
The duration of the office lease contract.
Rental period for the office.
Rent, lease term, and payment method are all factors to consider.
The parties create their own rights and obligations.
Contract termination terms and conditions
Get legal support from a third party
Even if you have no prior experience renting offices in Da Nang, you can find professional office rental services. As a result, they will provide you with appropriate rental addresses as well as dedicated legal support during the signing and handover process.
Vietforent – The place that brings a great office rental in Da Nang
Built and developed by a dedicated and professional team, Vietforent is the leading prestigious office rental provider in Da Nang area. With high experience and thorough understanding of the market, Vietforent confidently brings you a variety of product segments. Make sure to suit the needs and sizes of each different business.
As a result, when you visit Vietforent, you will be greeted with enthusiasm by a team of consultants. Vietforent committed to making timely contributions to meet the needs and desires of diverse customers by analyzing and thoroughly assessing the benefits and drawbacks of each rental point.
As can be seen, finding an appropriate office rental in Da Nang is never an easy task. Hopefully, the information provided above has helped you understand the important factors to consider when renting an office in Da Nang. If you lack experience, let Vietforent work with you to find the best place for you to work for the company. For the best assistance, contact Vietforent right away.
VIETFORENT
Fanpage: Vietforent.com
Email: Vietforent@gmail.com
Phone: 0905.320.161
Check out: Office for rent in Da Nang – Hoi An
Office for rent in Da Nang, rent office in Da Nang, Office rental Danang